Back
People. Planet. Prosperity.
The three Ps reflect the pillars of Circular Economy Month, whose goal is to demystify all the benefits of a circular economy and highlight the plethora of different business designs that are more than just recycling.
Featuring panelists Rachel Morier, Director of Sustainability from The Beer Store, Michael Leering, Director of Environment & Business Excellence from CSA Group, and Catherine Leighton, Senior Strategy Manager from TELUS, the Champion Panel Webinar held on October 24th accomplished just that.
The panel brought together passionate experts from three industries— information and communications technology, beverage distribution, and standards development and certification. Moderated by Jo-Anne St. Godard, the Executive Director of Circular Innovation Council, the panellists discussed how their industries accelerate the circular economy in Canada.
Learn how your team, business, and community can strive for sustainable innovation—no matter which role or industry you're based in. Here are the highlights discussed.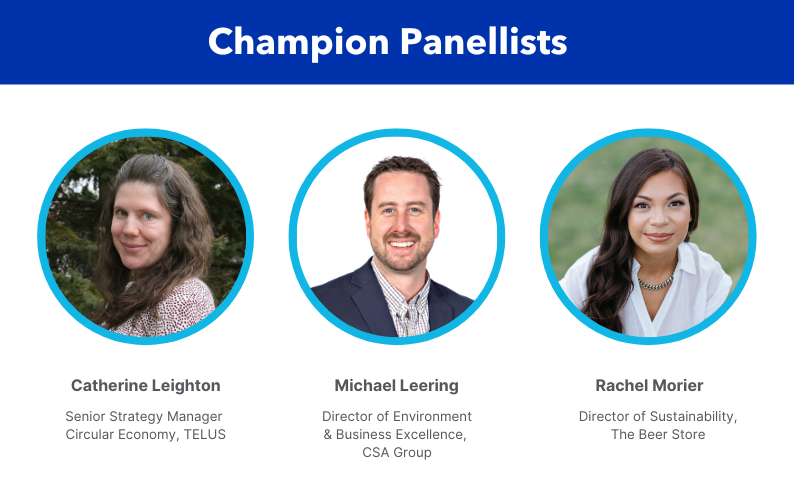 ✨ What qualifies as innovative? Innovation isn't necessarily flashy – a lot of it happens behind the scenes. Innovation can look like leveraging emerging technology to find greater transportation efficiencies. It can also look like sorting technologies or reverse vending machines.
🧾 Apples to apples. Circular economy has lots of principles and concepts that are common across economic sectors, but the language used is inconsistent within industries, governments, and the public. Through standardization – such as the synthesis of common definitions – we can mobilize consistent action.
🧾 Continuous improvement. Did you know that national standards must be updated every 5 years? That means technical committees must meet and review standards to ensure standards continue to meet the needs of those who use them. And if governments utilize national standards, they don't have to spend time updating policies and regulations themselves.
🧾 Recipes for success, from start-up to nation-wide. Standards have the economic benefits of scalability and continual improvement. They take regional examples of circular success and scale them nationally. Committees of experts form these standards, and by doing so, many can learn from past experiences and successes.
🧾 Pilots lead to standards. Successful pilot projects with robust data and methodology, like those of Circular Innovation Council's innovative food rescue pilots, are the basis for new standards. Standards can also play a role in construction and industrial processes.
📱 Refurbishment, repair, and sharing — the next Yukon gold rush. Fighting back against planned obsolescence and continual consumption of devices, there are economic and business opportunities that coincide with reduced virgin production.
📱 An affordable solution for the people, a seamless business case for business. Going in to buy a new device? Consider purchasing a Certified Pre-Owned product (CPO). They work like new, cost 15% less – saving you money! – and have been carefully checked. Did we mention the warranty is still in place? The business providing the refurbishment and verification spends only a third of the cost to repair as compared to the price of a new device.
📱 Procuring brandholder relationships, not just products. Stakeholders, such as governments, seek vendors who sell good products and repair them too.
📱 Consider all three elements of success: economics, environment, and social. A great example of a program that leverages all three elements of success is TELUS' Mobility for Good program. Devices brought back to the store are assessed and valued; the donor can take the value to purchase a new device or donate the value to subsidize the purchasing of discounted smartphones to youth and seniors in need, as well as refugees and Indigenous women at risk.
🍻 Reverse logistics for people and planet. Deposit Return Systems are a way to pay back to the consumer for their initiative and divert containers and secondary packaging from entering less efficient recycling systems – or even worse, the landfill.
🍻 Recirculating packaging is very rare in today's marketplace — but it shouldn't be. The familiar industry-standard brown beer bottles in Ontario are owned by 30 competing brewers. This system, which has been in place for nearly a century and predates regulation, makes business sense due to the proximity of the actors involved (drop-off locations aka The Beer Store, end markets, processors, and glass manufacturers). The system also streamlines efficiencies for consumers, incentivizing them to come back and participate.
🍻 Reduced virgin material usage and energy. Having a shared pooled model not only reduces the demand and production of virgin materials but the energy to create these resource-intensive materials as well, such as glass and aluminum.
🍻 Building resiliency into your business, a common pain point. The Beer Store's supply chain is vertically integrated – it has full control of the system, so they have reduced risks and liabilities like interruptions and costs.
The panel answered questions from the audience:
❓ Do you have suggestions on how to better engage employees in circular initiatives?
🔊 The big ticket is education, training, and awareness to higher-level individuals in your organization. This allows them to see opportunities in place. In addition, having sustainability advocates – not just within the sustainability team, but across departments like HR, distribution, accounting, etc. – builds sustainability into each function. Ensure good ideas have a home, no matter where they come from within your business.
❓ How do people reach out to you and get involved?
🔊 Email, voice calling, and social media like LinkedIn are great methods, but to have an even bigger impact, consider joining national committees!
Thank you again to Rachel Morier from The Beer Store, Michael Leering from CSA Group, and Catherine Leighton from TELUS for joining us at this Champion Panel and sharing your insight into these critically important topics.
Find the recording of this webinar on the Circular Economy Month YouTube channel or watch below. Make sure you don't miss out on any up-and-coming opportunities by signing up for our emailing list and be sure to follow our social media channels!
Want a chance to participate in upcoming events? Consider partnering with us to participate in year-round opportunities, connect with your audience, educate Canadians about the circular economy and its benefits, and drive circular innovation in Canada.