This year, we once again ask communities, businesses, schools, and individuals from across Canada to renew their commitment and celebrate sustainability by proclaiming Oct. 1 – 31, 2023 as Circular Economy Month.
Each year since 2001, hundreds of organizations from Yellowknife to St. Johns have proclaimed Waste Reduction Week in Canada. To continue to demonstrate your commitment and recognition of preserving our natural resources, reducing greenhouse gas emissions, supporting local economies, and protecting our environment, we ask that you proclaim October 2023 as Circular Economy Month (the expanded program of Waste Reduction Week).
We hope your council and senior leaders will take this opportunity to join and show your support to this newly expanded campaign that will continue to engage millions of Canadians each year.
How to Proclaim:
Step 1
Download and fill out the proclamation template below. On the form you are welcome to upload your organization's logo in the bottom right corner.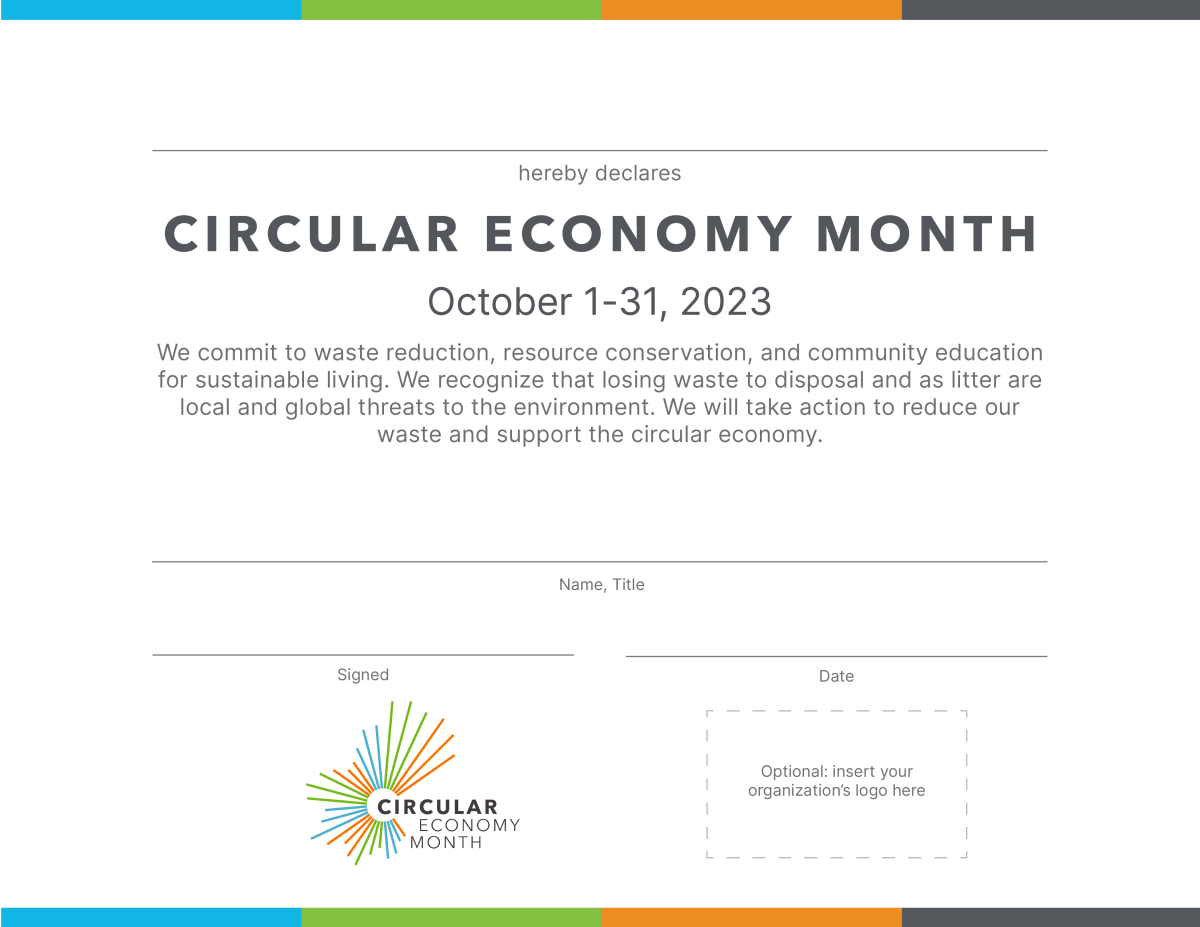 Download Certificate:
Step 2
Complete the Proclamation Registration form. Please upload your completed proclamation certificate to the form. Don't forget to tell us why you are proclaiming Circular Economy Month and what your organization is doing to advance the circular economy. Once submitted, your proclamation will take 1-3 business days to be listed on this page and on the proclamations map.
Step 3 (optional)
Share a Video! Show Canadians and your local community that your government is declaring Circular Economy Month in Canada this year. Record a video of your mayor or leader in your organization announcing your Circular Economy Month proclamation and sharing how your organization is supporting Canada's transition to a circular economy. Submit your videos on social media using #CircularEconomyMonth.
Join the communities and organizations across Canada who are recognizing Circular Economy Month in Canada
2023 Participants: