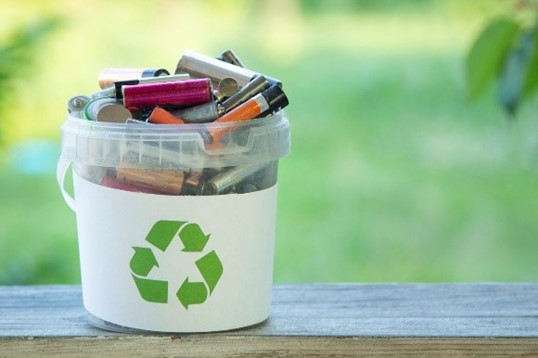 This October, Call2Recycle, Canada's premier battery collection and recycling program, is proud to participate in the Circular Innovation Council's second annual Circular Economy Month. At the forefront of environmental responsibility, Call2Recycle is committed to reducing environmental impacts and costs by promoting the recycling of batteries, a critical component of the circular economy. Throughout the month, we'll be actively engaging with Canadians to highlight the importance of battery recycling in advancing a sustainable circular economy.
The circular economy embodies the very essence of responsible resource management. Batteries, in particular, are a compelling example of how recycling can contribute to this vision. Batteries house chemical and metal components that can be harmful if discarded in landfills. By recycling batteries correctly, we can transform these components into new products, like stainless-steel appliances, golf clubs, bicycles, and more, without the need for mining new materials. This process significantly reduces the environmental and social impacts associated with material extraction and battery disposal.
Join Our Battery Recycling Challenge!
As part of our commitment to Circular Economy Month, Call2Recycle is excited to introduce the Battery Recycling Challenge. We invite consumers to participate by collecting end-of-life batteries and dropping them off at a nearby Call2Recycle collection point. By visiting our contest page and enabling mobile "location services" to confirm your drop-off location, you'll have the chance to win up to $5,000! It's a fun and rewarding way to contribute to Canada's recycling and sustainability efforts.
To discover your nearest drop-off point and take part in this exciting challenge, visit RecycleYourBatteries.ca.
About Call2Recycle Canada, Inc.

Call2Recycle proudly serves as Canada's foremost organization for battery collection and recycling. We fulfill product stewardship obligations on behalf of over 400 members, including producers of single-use and rechargeable batteries. Operating as the provincially approved consumer battery collection and recycling program in several provinces and a registered Producer Responsibility Organization (PRO) in Ontario, we are dedicated to responsibly handling household batteries and eTransport batteries used in various electric vehicles. Since our establishment in 1997, we've diverted over 40 million kilograms of batteries from Canadian landfills, fostering long-lasting relationships with stakeholders and building a network of over 10,000 participating collection locations across the country.
Join Call2Recycle in embracing the circular economy and making a positive impact on our environment. Visit our homepage to learn more about our mission and how you can get involved. Together, we can create a more sustainable future for all Canadians.