About Carton Council of Canada (CCC)
Carton Council of Canada provides a platform for carton manufacturers in Canada to benchmark and profile cartons as renewable, recyclable and low-carbon packaging solutions.
CCC helps increase carton recovery and recycling in Canada by:
Financing and producing carton-recycling awareness campaigns
Providing consulting services to optimize sorting processes
Financing pilot projects
Connecting sellers and buyers of carton bales
CCC is a proud member of Circular Innovation Council and has supported the Waste Reduction Week in Canada program since 2020.
Feature Initiatives
Carton Council of Canada is proud of its efforts to collaborate with recycling industry partners and educators. Two of CCC's feature initiatives are highlighted below.
Community Education Award
In 2023, CCC launched the third year of its Community Education Award. The program was developed to support and enhance recycling education in Canadian communities. This year, the Community Education Award program is focused on the provinces in Atlantic Canada; in previous years, the award focused on Ontario and Quebec, respectively.
Organizations who sign up for the program are eligible to receive $2,000 each by demonstrating their proactive recycling education efforts, featuring food and beverage cartons. Carton Council Canada believes that creative collaborations like the Community Education Award have a positive impact on local awareness of recycling in general and cartons specifically.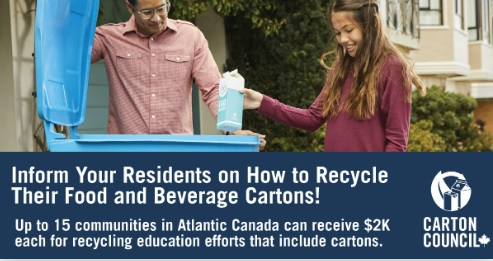 Carton Recycling School Contest
Did you know that the average Canadian primary school produces 39,000 used milk and juice cartons each year? To make sure these cartons end up in the right place, EcoSchools Canada and the Carton Council of Canada are partnering to promote proper recycling of milk cartons and drink boxes at school through the national Carton Recycling School Contest.
From October 16 to November 3, 2023, students in Canada are encouraged to take a photo capturing a best practice of carton recycling and post the photo, along with a short description, to social media.
Creative submissions demonstrating leadership in promoting sustainability and active involvement in good recycling practices will be eligible for the $1,000 grand prize or one of two $500 runner-up prizes. Each prize is intended to be used for improving and enhancing environmental activities at the winner's school. More details on the contest and how to register are available on EcoSchools' web site.